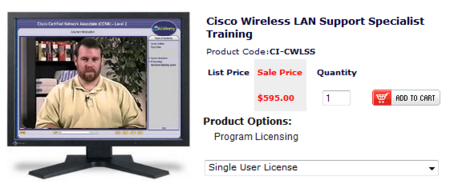 Career Academy - Cisco Wireless LAN Support Specialist Training
CWNA (Certified Wireless Network Administrator) is the foundation level wireless LAN certification for the industry standard CWNP Program. It is your starting point for wireless training and certification. CWNA covers a broad range of wireless LAN topics focused on 802.11 wireless technology rather than products of specific vendors. The wireless network market continues to grow because of the additional productivity that wireless network access brings to any organization. Properly trained and certified individuals are needed to make networks secure, cost-effective, and reliable.
CareerAcademy has provided you with tools necessary to achieve this highly sought after certification with our new CWNA CBT course. As always, our course focuses on the pertinent information needed to pass the certification exam while providing you with knowledge and skill set required to perform effectively as a wireless professional.
Included with this training:
* 5 CD-ROMs with over 10+ hours of multimedia instruction
* 1 Official CWNA Certification Study Guide
* Comprehensive, understandable, and reusable as reference material
* Access to Training and Career Advisor
* Certification ExamPass Guarantee
* Certificate of Completion
Subjects:
Radio Frequency (RF) Fundamentals
* RF behavior and properties
* Principles of antennas
* RF math calculations
* Link budgets and system operating margins
Spread Spectrum Technologies
* Uses of Spread Spectrum
* Frequency Hopping (FHSS)
* Direct Sequencing (DSSS)
* Orthogonal Frequency Division Multiplexing (OFDM)
* Packet Binary Convolutional Coding (PBCC)
* Comparing DSSS, FHSS, PBCC, and OFDM
* Co-location and throughput analysis
* Chipping code, processing gain, and spreading functions
* Channels, data rates, ranges, and comparisons
* Channel reuse in pure and mixed environments
Hardware Installation, Configuration, and Management
* Access points
* Wireless bridges
* Wireless workgroup bridges
* Client devices and accessories
* Residential gateways
* Enterprise gateways
* Wireless LAN switches
* PoE Switches and patch panels
* VoWiFi systems
* Wireless Routers
Troubleshooting Wireless LANs
* Multipath
* Hidden node
* Near/Far
* Identifying and resolving interference problems
* Maximizing system throughput
* Maximizing co-location throughput
* Range considerations
Antennas and Accessories
* Omni-directional
* Semi-directional
* Highly-directional
* Determining coverage areas
* Proper mounting and safety
* Performing outdoor/indoor installations
* Power over Ethernet (802.3af and proprietary implementations)
* Cables and connector usage requirements
* Amplifiers, attenuators, lightning arrestors, and splitters
* Fresnel Zones and Free Space Path Loss
* Interference, Fading, and Multipath
Wireless Network Management
* Authentication, Authorization, and Accounting (AAA) functions
* Bandwidth control
* Wireless Network Management features and products
Physical and MAC Layers
* Differences between wireless and Ethernet frames
* Collision handling and the use of RTS/CTS
* Throughput and dynamic rate selection
* Analysis of DCF mode and the CSMA/CA protocol
* How frame fragmentation works and its affects on throughput
Wireless LAN Security
* Analysis of 802.11 security including WEP, WPA, 802.1x/EAP types, and 802.11i
* Available security solutions at Layer2, 3, & 7
* Types of network attacks, and protecting the network from attacks
* Corporate security policies including baseline practices, and common security solutions
* Security recommendations
Organizations and Standards
* FCC rules
* Frequency ranges and channels
* IEEE 802.11 family of standards
* Wireless LAN organizations
* Proper application of WLANs in distribution and access roles
* Interoperability standards
802.11 Network Architecture
* Joining a wireless LAN
* Authentication and association
* Basic Service Sets
* Extended Service Sets
* Independent Basic Service Sets
* Distribution systems
* Roaming in a wireless LAN
* Scanning modes using Beacons and Probe Frames
* Power management features
Site Surveying
* Understanding the need for a site survey
* Defining business requirements and justification
* Facility analysis
* Interviewing network management and users
* Identifying bandwidth requirements
* Determining contours of RF coverage
* Documenting installation problems
* Locating interference
* Reporting methodology and procedures
* Understanding specifics of each vertical market
* Understanding the customer's network topology
* Creating appropriate documentation during and after the site survey
* Understanding FCC/FAA rules regarding towers
* Understanding safety hazards
* Using appropriate hardware and software to perform the survey